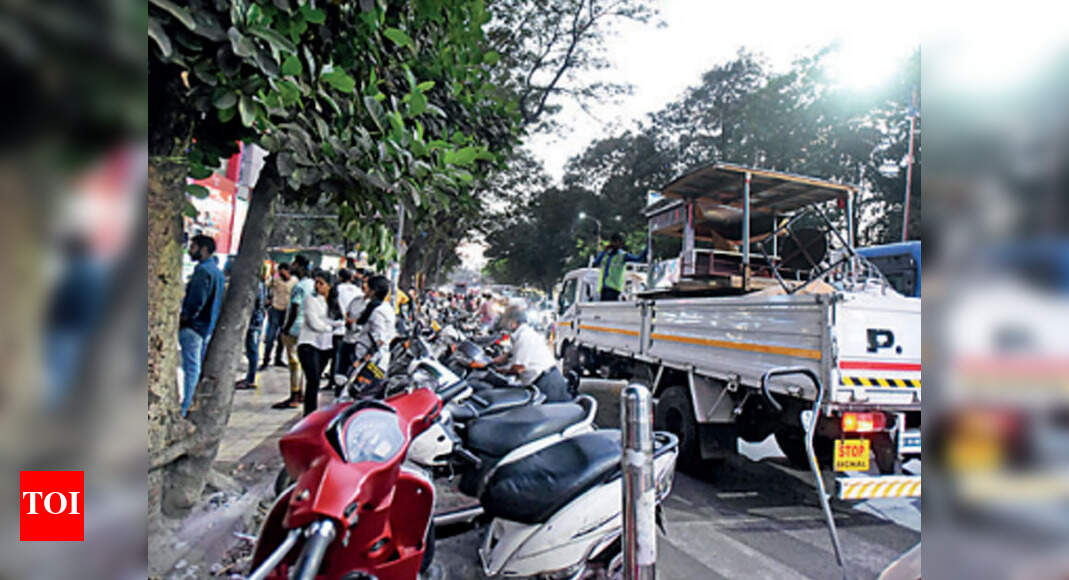 PUNE: A special squad of the
(PCB) took action against around 70 hawkers on MG Road on Thursday and Friday during an anti-encroachment drive.
The squad led by PCB's deputy chief executive officer Rahul Gajbaye removed 50 hawkers and seized their material on Thursday, and confiscated 20 handcarts on Friday under the Cantonment Act, 2006.
The PCB has also decided to take action against the traders encouraging encroachments by allowing hawkers to operate in front of their shops on the busy roads in the Cantonment area. "We want to address the encroachment issue permanently, and this is one of the moves to send a stern message to violators among the traders in the Cantonment area," Amit Kumar, the chief executive officer of the PCB, told TOI on Friday.
Kumar said they would continue to take action against the hawkers until they saw the desired results.
The board had received several complaints from residents, visitors and Army officers regarding encroachment on public pavements, particularly on MG Road and East Street. "The pedestrians are forced to walk on the main street, which is risky. Either side of MG Road and East Street is reserved for parking. So, there is limited carriageway available for vehicular movement. In such a situation, chances of accidents are high. Hence, removing hawkers is necessary," an Army officer said.
A board member said the PCB had carried out similar drives in the past but they were not effective as the hawkers would return in a few days. "The board will not be able to address the problem permanently unless it continues the drive for a substantial period. Neither the traders, nor the residents take the move seriously, as they are under the impression that the drive is temporary," a board member said.
A resident and activist Sanjay Kawade said adopting a concrete anti-encroachment policy was a must. "To resolve the encroachment issue, the board had created a 'fashion market' a few years ago. But the situation remained the same. Active public participation and positive approach of the board is necessary to end this problem," he said.