Best Ethnic Festive Memorable Gifting Store in Aundh – inthebox.in
About Us Products Gallery Contact
Whatsapp Chat
About Pratha Box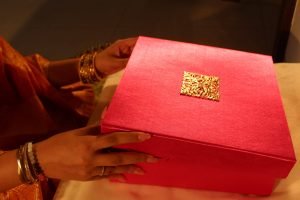 Pooja essentially involves the use of all the five senses. The accessories of the Pratha box aids in invoking all these five senses. All the accessories are very mindfully and lovingly curated. From the Pooja Thali to Akshata are all bundled for you in one box. The smallest of your needs for a detailed Laxmi Poojan are procured for you here….
The fragrance of Agarbattis and Dhoop, the rich colours of Kumkum, Haldi and the warm glow of Diyas will usher prosperity, purity and positivity into your lives. So an ensemble which helps you in carrying on the traditions…effortlessly.
An exquisite box adding elegance to your Pooja Room. Best Ethnic Festive Memorable Gifting Store in Aundh. This Diwali you can gift the ornate box to your friends, relatives and colleagues and keep one for your Diwali Laxmi Pooja.
Our Products
Everything inside the box will help you celebrate whatever the occasion !! Be it a Birthday Party, retirement party or a festival or a Pooja or a Corporate gift, we have a box ready for you !! Find Best Ethnic Festive Memorable Gifting Store in Aundh.
| | | |
| --- | --- | --- |
| Pratha | Pitara | Nine to Five |
| Our "Pratha" box takes care of all the Poojas. Laxmi Pooja, Satyanarayan Pooja, Karwa Chauth Pooja, House Warming Pooja and so on. | The "Pitara" is a fun box with all the goodies for Birthdays, Return gifts, Baby Showers, Sangeet, Mehandi, Rakhi gifts and the list can go on and on !!! | Our "9 to 5" caters to the corporate sector. The Diwali gifts, Promotion gifts, client gifts, team gifts are all taken care by us. |
Gallery of Pratha Box
Pratha Box Items
;
Haldi

;

Kumkum

;

Akshata

;

Black Abeer

;

Sindoor

;

Ooti

;

Dhoop

;

Janeu

;

Kapur

;

Mishri

;

Laung & Elaichi

;

Round Batti

;

Long Batti

;

Kapus Vastra

;

Mauli Thread

;

Jhadu

;

Ittar

;

Matchbox

;

Gangajal

20. Marble Murtis of Ganeshji + Lakshmiji with Beautiful Aasan (by Artisans from Rajasthan)
21. 6″ Brass Pooja Thali (from Muradabad)
22. Brass kalash (from Muradabad)
23. 5 Terracota Diyas (from Kolkata)
24. Terracotta Laxmiji Charan (from Kolkata)
25. Lava
26. Chura
27. Layya
28. Batasha
29. White & Coloured Rangoli
30. Aarti Sangrah
31. Pooja Chunri
32. Shubh Labh Hanging
33. Mahalaxmi Yantra
34. Bahikhata
35. Pen
36. 2 Panchgavya Diyas (from Maharashtra)
37. Incense Sticks
38. Fairy lights
Reach Us
IntheBox.in
inthebox.in@gmail.com
Phone: 8055946778 / 9860407109 / 9923974060
B-104, Apostrophe, Wakad
411057
India
Best Ethnic Festive Memorable Gifting Store in Aundh – inthebox.in